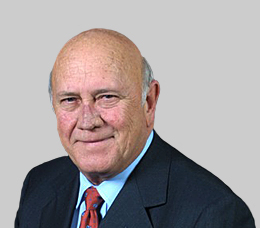 Frederik Willem de Klerk
President, Republic of South Africa 1989-94
"The decisions that statesmen take can make the difference between war and peace; between freedom and tyranny; between prosperity and poverty. The stakes are immensely high: they are the happiness of and security of tens of millions of ordinary people. They are the ability of ordinary people to pursue what Yeats called the ceremonies of innocence: growing up; getting an education; falling in love and raising a family; making a living and pursuing one's special dreams".
FW de Klerk
GLF Founder
FW de Klerk
President, Republic of South Africa 1989-94
Biographical Information
FW de Klerk was President of South Africa from 1989 to 1994, during which time he initiated and presided over the inclusive negotiations that led to the dismantling of "apartheid" and the adoption of South Africa's first fully democratic constitution in December 1993.
Mr De Klerk entered national politics as a Member of Parliament in November 1972. Before becoming State President, he held the following portfolios within the Cabinet: Mineral and Energy Affairs,Posts and Telecommunications and Social Welfare and Pensions; Sport and Recreation, Mining and Environmental Planning,  Internal Affairs, Public Service, and National Education.
Mr. De Klerk also served as Chairman of the Minister's Council in the House of Assembly and Leader of the House of Assembly. Having been chosen as the leader of the National Party in February 1989, Mr. De Klerk became State President on 20 September 1989, a position he held until Nelson Mandela's inauguration as President on 10 May 1994.
After leading the National Party to second place in South Africa's first fully representative general election of 27 April 1994 Mr. De Klerk was inaugurated as one of South Africa's two Executive Deputy Presidents. He served in this capacity until the end of June 1996 when the National Party, under his leadership, decided to withdraw from the Government of National Unity. He was Leader of the Official Opposition until his retirement from active party politics on 9 September 1997.
Activity after public politics
In January 1999 Mr. De Klerk published his autobiography "The Last Trek – a New Beginning" and the same year established the F W de Klerk Foundation, which is dedicated to the promotion of peace in multi-communal societies and the upholding of South Africa's constitution. He makes numerous speeches around the world and actively participates as an elder statesman in international conferences on the promotion of harmonious relations in multi-communal societies, the future of Africa and South Africa and the challenges facing the world during the new millennium.
Mr. De Klerk has received numerous national and international honours and honorary doctorates, including the Philadelphia Peace Prize and, together with Nelson Mandela, the Nobel Peace Prize in 1993.
Mr De Klerk founded the Global Leadership Foundation in 2004 and was Chairman of the Board from 2004-2021. He has represented GLF in meetings with leaders of nine countries in Africa, South America, Europe, Central Asia and South East Asia.
Mr De Klerk passed away on 11 November following a short battle with cancer. His memorial service was held on 12 December 2021 at the Groote Kerk, Cape Town and is available to watch here.