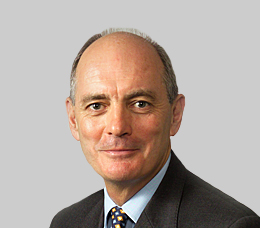 "As Chairman I welcome Sir Robert Fulton's appointment as CEO of the GLF. The relevant experience he brings to the table in conjunction with the continued activity of Sir Robin Christopher, in his new role as Projects Director, will greatly expand the capacity and impact of the GLF".
FW de Klerk
GLF Chairman
CEO of the Global Leadership Foundation
Biographical Information
Sir Robert was born in 1948. He was educated at Eton College and the University of East Anglia. He is a Graduate of the UK Royal College of Defence Studies and the UK Higher Command and Staff Course.
Sir Robert joined the Royal Marines in 1972 and, in a military career of 34 years, served all round the world. In 1998 he became Commandant General Royal Marines. He left the Armed Forces in 2006 as the Deputy Chief of the Defence Staff for Equipment Capability in the rank of Lieutenant General. In 2006 he was appointed to be the 63rd Governor of Gibraltar and returned to UK in 2009. He was knighted by Her Majesty the Queen in 2005 and in 2009 he was appointed as a Knight of the Order of St John.
Sir Robert Fulton took up the appointment of CEO of the Global Leadership Foundation on 1 July 2010.