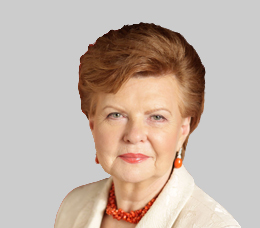 Vaira Vike-Freiberga
President of Latvia, 1999-2007
President of Latvia, 1999-2007
Biographical Information
As President of the Republic of Latvia from 1999 to 2007, Dr. Vike-Freiberga played a key role in Latvia's NATO membership and its ascension to the European Union, which the country joined in 2004.
Public Career
During her presidency, Dr. Vaira Vike-Freiberga was a Member of the Council of Women World Leaders and, in April 2005, was appointed by Secretary-General Kofi Annan to his team of global political leaders helping to promote a comprehensive UN reform agenda.
Dr. Vike-Freiberga was born in 1937 in Riga, Latvia. In order to escape the Soviet occupation, her family fled the country in 1945 and became refugees. She began her schooling in refugee camps in Germany and continued in French Morocco. After arriving in Canada in 1954, she worked for a year in a bank, and then entered the University of Toronto, obtaining a B.A. (1958) and an M.A. (1960) in Psychology. Resuming her education at McGill University in Montreal, she earned a doctorate in experimental psychology in 1965.
From 1965 to 1998 Dr. Vike-Freiberga pursued a professorial career at the Department of Psychology of the University of Montreal, writing seven books and about 160 articles, essays or book chapters.
Dr. Vike-Freiberga has held leading positions in national and international scientific and scholarly organisations, as well as in a number of Canadian governmental, institutional, academic and interdisciplinary committees. She has been actively involved in community service since 1957, focusing on questions of Latvian identity and culture, and the political future of the Baltic States.
On returning to Latvia in 1998, Dr. Vike-Freiberga was appointed Director of the newly founded Latvian Institute, an organization devoted to promoting Latvian awareness abroad. A year later, in June 1999, she was elected President of Latvia. She was not a first-round candidate, but when the Latvian Parliament failed to elect a President in the first round of voting, Dr. Vike-Freiberga was drafted as she was well-known and respected but not affiliated with any political parties.
Activity after Public Politics
Since the end of her presidency, Dr. Vike-Freiberga has remained active in the international arena and continues to speak up in defence of liberty, equality and social justice.
Dr. Vike-Freiberga was the only female candidate for the first President of the European Council and between 2008 and 2010 she was Vice Chair of the European Council's Reflection Group on the Future of Europe 2020-2030. She speaks Latvian, English, French, German and Spanish and understands Italian and Portuguese. In 2009 Dr. Vike-Freiberga chaired the European Commission's European Research Council Review Panel, and is currently a member of the Commission's European Research Council Taskforce on the ERC's Future.
A Founding Member of the Club de Madrid, Dr. Vike-Freiberga was Mission Leader of the Club's 2008 high-level mission to Uganda and its 2009 high-level mission to Colombia. She joined the Club de Madrid's Assessment mission to Kyrgyzstan in 2010 and was a Member of the Club's Taskforce on Political Leadership for Democratic Transition in Kyrgyzstan. Dr Vike-Freiberga served as the President of the Club de Madrid from 2014 – 2019. 
Dr. Vike-Freiberga served as a Member of the Global Commission on Elections, Democracy & Security. Jointly created by International IDEA and the Kofi Annan Foundation, the Commission worked to promote and protect the integrity of the electoral process, which is fundamental for sustainable democracy. The Commission has distilled recommendations to governments, regional and international organizations on how to prioritize and implement principles and practices to enhance the integrity of electoral processes.
Vaira Vīķe-Freiberga has been a Member of the Global Leadership Foundation since 2010.
Memberships and Associations
Chair of the European Commission's High Level Group on Media Freedom and Pluralism

Co-Chair of the European Council on Foreign Relations Steering Group for European Foreign Policy Scorecard 2012
Board Membe of the International Centre for Democratic Transition
Board Member of the International Criminal Court's Trust Fund for Victims
Member of the European Council on Tolerance and Reconciliation
Member of Council of Women World Leaders
Member of European Council on Foreign Relations
Member of Advisory Board of Institute for Cultural Diplomacy
Member of InterAction Council
Member of Patrons' Council of Missing Children Europe
Member of Aspen Institute's Global Leaders Council for Reproductive Health
Member of Global Council of International Museum of Women
Member of European Former Leaders Group
Member of Europe Book Prize Sponsoring Committee
Member of Advisory Board of Uppsala University Centre for Russian and Eurasian Studies
Member of Latvian Academy of Sciences
Member of Royal Society of Canada
Member of Honor Committee of Fondation Chirac and of International Jury of Fondation Chirac's Prize for the Prevention of Conflicts
Associate Member of Royal Academy of Belgium
Trustee of Bibliotheca Alexandrina
Patron of University Association for Contemporary European Studies
Honorary Patron of Colloquium on the Teaching of European literatures
Honorary Board Member of European Association of History Educators
Honorary Senator, European Academy of Sciences and Arts
Senior Fellow of Institute of Politics, John F. Kennedy School of Government, Harvard University