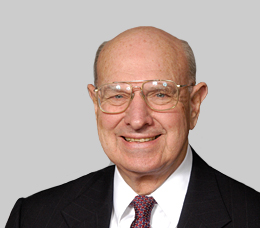 Thomas R Pickering
US Under Secretary of State for Political Affairs 1997-2000
US Ambassador to the UN 1989-1992
"GLF provides quiet, experienced and confidential advice and counsel to leaders around the world with a recognised need for such help. Disinterested support is a rare and precious commodity and GLF is unique in making it available".
Thomas R. Pickering
GLF Member
US Under Secretary of State for Political Affairs 1997-2000
US Ambassador to the UN 1989-1992
Public Career
In a diplomatic career spanning five decades, Thomas R. Pickering was U.S. Ambassador to the Russian Federation, India, Israel, El Salvador, Nigeria, and the Hashemite Kingdom of Jordan. Mr. Pickering also served on assignments in Zanzibar and Dar es Salaam, Tanzania.
Thomas Pickering served in the U.S. Navy from 1956-1959, and later in the Naval Reserve to the grade of Lieutenant Commander. Between 1959 and 1961, he was assigned to the Bureau of Intelligence and Research of the State Department and later to the Arms Control and Disarmament Agency. From 1962 to 1964 Thomas Pickering worked in Geneva as political adviser to the U.S. Delegation to the 18-Nation Disarmament Conference.
From 1973 to 1974 Thomas Pickering was Executive Secretary of the Department of State and Special Assistant to Secretaries William P. Rogers and Henry A. Kissinger. Between 1974–1978 Thomas Pickering was appointed U.S. Ambassador to Jordan and from 1978 to 1981, he served as Assistant Secretary of State for Oceans and International Environmental and Scientific Affair. He was U.S. Ambassador to Nigeria between 1981–1983, U.S. Ambassador to El Salvador between 1983–1985 and then U.S. Ambassador to Israel between 1985–1988. He won the Distinguished Presidential Award in 1983 and again in 1986.
From 1989 to 1992 Thomas Pickering was U.S. Ambassador and Representative to the United Nations in New York, where he played a critical role in shaping the UN Security Council's response to Iraq's invasion of Kuwait.
Thomas Pickering served as U.S. Ambassador to India from 1992–1993 and then U.S. Ambassador to Russia from 1993–1996 before his appointment from 1997–2000 as U.S. Under Secretary of State for Political Affairs, the number three position at the State Department.
In 1996, Thomas Pickering was awarded the Department of State's highest award – the Distinguished Service Award – and he holds the personal rank of Career Ambassador, the highest in the U.S. Foreign Service.
Activity after Public Service
After being briefly President of the Eurasia Foundation, a Washington-based organization that makes small grants and loans in the states of the former Soviet Union, Thomas Pickering joined The Boeing Company in 2001 where he was for five and a half years Senior Vice President International Relations. He was also a member of the Executive Council of The Boeing Company. At Boeing he was responsible for the company's relations with foreign governments and the company's globalization. Since December 2006, Thomas Pickering has been Vice Chairman at Hills and Co which provides advice and counsel to a number of major U.S. enterprises.
Together with fellow GLF Member, Lakhdar Brahimi, Thomas Pickering co-chaired an international task force on Afghanistan, organised by the Century Foundation. Their findings and recommendations sought to determine what kind of political path might lead to ending the war. (This report can be viewed at http://tcf.org/publications/2011/3/afghanistan-negotiating-peace)
Thomas Pickering has been a Member of the Global Leadership Foundation since 2009. He served as Chairman of GLF's US Advisory Committee from 2006-2015 and was appointed to serve on the GLF Board in 2016. Thomas Pickering has been involved in two GLF projects in the Americas and a third project in Eurasia.
Memberships and Affiliations
Chairman of the Board, Washington Institute for Foreign Affairs

Chairman of the Board, Center for the Study of the Presidency and Congress
Chair of US Board, Moscow School of Politics
Chairman of the Board, Institute for the Study of Diplomacy, School of Foreign Service, Georgetown University

Board Member of Center for Excellence in Education

Board Member of the International Crisis Group
Advisory Council Member of United States Institute for Peace
Advisory Council Member National Committee on American Foreign Policy
Advisory Council Member of The Stanley Foundation
Member of the International Institute of Strategic Studies 
Member of the Council on Foreign Relations
Member of the National Bureau of Asian Research 
Member of the Global Panel Foundation based in Berlin and Prague

Member of the Constitution Project's bipartisan Liberty and Security Committee

Member of the Advisory Board of Eurasia Group
Trustee of the George C Marshall Foundation
Trustee of the United States-Russia Business Council
Special Advisor of the Center for Strategic and International Studies
Special Advisory of the Brookings Institute