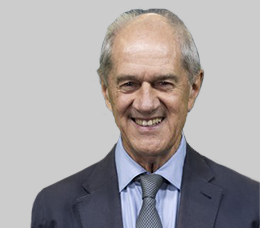 Roelf Meyer
Minister of Defence, South Africa 1991-1992
Minister of Constitutional Affairs and Communication, 1992-1994
Minister of Constitutional Development and Provincial Affairs, 1994-1996
Roelf Meyer
Minister of Defence, South Africa 1991-1992
Minister of Constitutional Affairs and Communication, 1992-1994
Minister of Constitutional Development and Provincial Affairs, 1994-1996
Public Career
Roelf Meyer became a Member of Parliament in 1979. He first served as Deputy Minister of Law and Order and then as Deputy Minster of Constitutional Development until 1991.
In 1992, Meyer was appointed as Minister of Defence by FW de Klerk, then State President. After nine months in office, Meyer resigned and became Minister of Constitutional Affairs and Communication in the de Klerk government, and it was in this position that he entered the negotiating process. Together with Cyril Ramaphosa, Chief Negotiator for the African National Congress (ANC), Meyer negotiated the end of apartheid and helped pave the way to the first democratic elections in South Africa in 1994. Meyer subsequently served as Minister of Constitutional Development in Nelson Mandela's cabinet. He resigned from active politics in 2000.
Activity after Public Politics
After leaving politics, Roelf Meyer held the Tip O'Neill Chair in Peace Studies at the University of Ulster. Meyer was subsequently appointed Chair of the South African Defence Review Committee (2011-2014).
Through his work at the In Transformation Initiative, Meyer has been involved in peace processes in: the Basque Region, Bolivia, Burundi, Central African Republic, Colombia, Democratic Republic of Congo, Guyana, Iraq, Israel / Palestine, Kenya, Kosovo, Madagascar, Myanmar, Northern Ireland, Rwanda, South Sudan, Sri Lanka and Zimbabwe.
He was awarded the Order of the Baobab in Silver by President Motlanthe for his immense contribution in providing special support in the birth of the new democratic South Africa".
Meyer became a Member of the GLF in 2022.