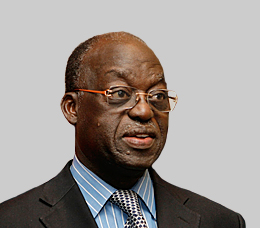 Moustapha Niasse
Prime Minister of Senegal 1983 & 2000-01
Prime Minister of Senegal 1983 & 2000-01
Biographical Information
Moustapha Niasse started his political career as President of the National Union of Students of Senegal and as the political secretary of the Socialist Party. He then served as Director of Information and Press of Senegal between 1967 and 1970 and Director of the Presidential Cabinet between 1970 and 1979. In 1979, after six months as Minister of Town Planning, Housing and Environment, Moustapha Niasse became Minister of Foreign Affairs for Senegal, where he served until 1984. During this period he served, for a month in 1983, as Prime Minister prior to the abolition (through constitutional amendment) of that position.
Between 1993 and 1998 Moustapha Niasse again served as Minister of Foreign Affairs, up until his resignation. In 1999 Niasse formed his own party, the Alliance of the Forces of Progress (AFP) and stood as a candidate in the 2000 Presidential election. After coming third in the primaries, he helped secure the Presidency for long-time opposition leader Abdoulaye Wade who, after taking office in 2000, appointed Niasse as his Prime Minister. He held this position for a year before resigning to stand as an AFP candidate in the April 2001 parliamentary election, at which he was elected to the National Assembly through the national list proportional representation system.
Niasse resigned his seat in the National Assembly in 2006 in opposition to the proposed extension of the National Assembly's term beyond its five-year mandate. He then stood, unsuccessfully, in the 2007 presidential elections as a candidate of Alternative 2007, a coalition of ten opposition parties.
During this period, Moustapha Niasse was elected President of two Extraordinary Sessions of the UN General Assembly in November 1996 and, in 1998, appointed to the position of Special Representative of the Secretary General of the United Nations for the Great Lakes region. In 2002 United Nations Secretary-General Kofi Annan appointed Niasse to be his envoy to the Democratic Republic of Congo in attempts to form a national unity government there.
Activity after public politics
Mr. Niasse ran a private consultancy company for nearly a decade, from which he gained extensive experience in the fields of petroleum, finance, insurance, air transportation, shipping and related services.
He has represented Senegal on a number of international and Africa organizations, including the Organization of African Unity (OAU), the Organization for the Islamic Conference (OIC), and the Movement of Non-Aligned Nations at the United Nations.
Moustapha Niasse joined GLF in 2008 but stepped down as an active Member in 2012 when he was appointed Speaker of Parliament in Senegal – a position he still holds.