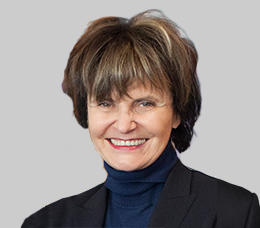 Micheline Calmy-Rey
President of the Swiss Confederation, 2007 and 2011
Head of the Department of Foreign Affairs, 2003-2011
President of the Swiss Confederation, 2007 and 2011
Head of the Department of Foreign Affairs, 2003-2011
Public Career
Micheline Calmy-Rey obtained a Master's degree in Political Science from the Graduate Institute in Geneva and before going into public service, she ran a small enterprise active in the book-distribution business for 20 years. Later Ms. Calmy-Rey served as a member of the board of the Banque cantonale de Genève and the Swiss National Bank. 
As deputy of the Social Democratic Party, Ms. Calmy-Rey was a member of the Parliament of the Canton of Geneva from 1981 to 1997. She assumed the office of President of the Cantonal Government from 2001 to 2002 before being elected to the Federal Council in December 2002.
Ms. Calmy-Rey served as head of the Federal Department of Foreign Affairs (FDFA) from 2003 to the end of 2011, where she pursued an active foreign policy marked by a commitment to broadening and developing relations between Switzerland and the European Union by strengthening and enhancing bilateral relations.  She also promoted Switzerland outside of Europe, particularly in Asia and Africa, and pursued a policy of "active neutrality" by promoting peace, fostering respect for human rights, and advancing the fight against poverty. Notable achievements of this policy include the launch of the Geneva Initiative (the draft Permanent Status Agreement to end the Israeli–Palestinian conflict), the creation of the Human Rights Council, the independence of Kosovo, mediations between Armenia and Turkey as well as Georgia and Russia and lastly the adoption of the Third Additional Protocol to the Geneva Conventions which allowed the "Magen David Adom" to enter the International Federation of Red Cross and Red Crescent Societies.
In 2007 and in 2011, Ms. Calmy-Rey assumed the office of President of the Swiss Confederation for a one year term. In 2010, she took up the presidency of the Council of Europe and chaired the Ministerial Conference of the Francophonie in 2010 and 2011.
Activity after Public Politics
Calmy-Rey is a member of the Council of Women World Leaders, an International network of current and former women presidents and prime ministers whose mission is to mobilize the highest-level women leaders globally for collective action on issues of critical importance to women and equitable development.
She became a Member of the Global Leadership Foundation in 2016 and joined the GLF Board in the same year. Micheline Calmy-Rey has led a GLF project in Eurasia.
Memberships and Associations
Board Member of the Center for International Relations and Sustainable Development (CIRSD)
Board Member of the Leadership Council of the UN Sustainable Development Solutions Network (SDSN)
Board Member of Geneva Science and Diplomacy Anticipator
Board Member of Gymnastics Ethics Foundation
Board Member of Gobat Pour La Paix
Member of Club de Madrid
Professor at the Global Studies Institute of the University of Geneva
Doctor Honoris causa at the International University in Geneva (IUG)