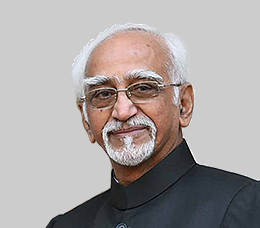 M. Hamid Ansari
Vice President, India 2007–2017
Ambassador to the UN 1993-1995
Vice President, India 2007–2017
Ambassador to the UN 1993-1995
Public service and academic career
Mohammad Hamid Ansari was born in Calcutta, India, in 1937 and was educated at the University of Calcutta and the Aligarh Muslim University.
Mr Ansari joined the Indian Foreign Service in 1961 and, after a series of other diplomatic assignments, got his first ambassadorial post in 1976 when he was appointed as Ambassador to the United Arab Emirates. Following this, he served as High Commissioner to Australia 1985-1989, Ambassador to Afghanistan 1989-1990, Ambassador to Iran 1990-1992 and Permanent Representative to the United Nations in New York 1993-1995. His final diplomatic assignment was as Ambassador to Saudi Arabia until his retirement in 1999.
Over the next few years Hamid Ansari worked in Academia. In December 1999 he became a Visiting Professor at the Centre for West Asian and African Studies in Jawaharlal Nehru University, New Delhi. From May 2000 to 2002 he served as Vice Chancellor of the Aligarh Muslim University. He was thereafter a Distinguished Fellow with the Observer Research Foundation from 2002-2006. From 2003-2005 he served as Visiting Professor at the Academy for Third World Studies at the Jamia Millia Islamia University, New Delhi.
From 2004-2006, he was Co-Chairman of the India-UK Round Table, a body established during the ministerial tenure of fellow GLF Member, Jaswant Singh and his British counterpart, Robin Cook. During the same period, Ansari was also a Member of the National Security Advisory Board. In 2006-2007 he was Chairman of the Fifth Statutory National Commission for Minorities.
In August 2007, Mohammad Hamid Ansari was elected as the thirteenth Vice President of India, a post to which he was re-elected in 2012 for a second five-year term until August 2017. Throughout this period, he was also ex-officio Chairman of the Rajya Sabha (Upper House of Parliament).
He was awarded the national award of Padma Shri in 1984.
Publications
M. Hamid Ansari has published several books including:
Iran Today: Twenty Five Years After the Islamic Revolution, (ed.) (New Delhi, 2005)
Traveling Through Conflict: Essays on the Politics of West Asia, (New Delhi, 2008)
Teasing Questions: Exploring Disconnects in Contemporary India, (New Delhi 2013)
Citizen and Society: Selected Writings (New Delhi 2016)
Dare I Question? – Reflections on Contemporary Challenges (2018)
He joined GLF as a Member in May 2020.