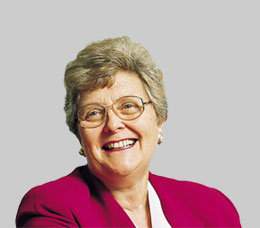 Lynda Chalker
Minister of Overseas Development, UK 1989-1997
Minister of Overseas Development, UK 1989-1997
Biographical Information
Between 1986 and 1997 Lynda Chalker was UK Minister of State at the Foreign & Commonwealth Office, holding responsibility for Africa and the Commonwealth and then also for Overseas Development.
Baroness Chalker has been a member of the Lower and Upper Houses of the UK Parliament for over forty years. She was first elected in 1974 as MP for Wallasey and was made a Life Peer in 1992.
Activity after Public Politics
Baroness Chalker has been an adviser to the World Bank and was the first woman to be appointed as a non-executive director of Unilever. She was a member of the international advisory board of Lafarge et Cie and is the Founder and President of Africa Matters Limited, a pan African group of advisers seeking to take investment into African businesses and keep them viable.
Lynda Chalker was Chairman of the Medicines for Malaria Venture (MMV) and was a Founder Trustee of the Investment Climate Facility for Africa (ICF) as well as being a patron of a number of charities, including the Chalker Foundation for Africa.
Lynda Chalker is a founding Member of the Global Leadership Foundation and has served on the Board of the Foundation since its incorporation in 2004. She has been part of three GLF project teams in Africa.
Memberships and Associations
Founder and President of Africa Matters Limited
Vice President of Water Aid
Patron of Afrikids