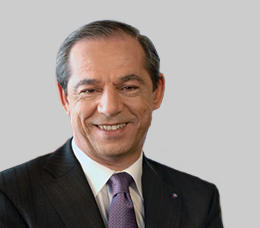 Lawrence Gonzi
Prime Minister, Malta 2004-2013
Minister of Finance, 2004-2008
Minister of Social Policy, 1998-2004
Prime Minister, Malta 2004-2013
Minister of Finance, 2004-2008
Minister of Social Policy, 1998-2004
Public Career
Lawrence Gonzi was Prime Minister of Malta for nine years (2004-2013) while retaining the portfolio of Minister of Finance for the first four years of his tenure (2004-2008).
Dr. Gonzi also served as Speaker of the House from 1988 to 1996, Minister of Social Policy from 1998 to 2004, as well as Deputy Prime Minister from 1999 to 2004. In Parliament, he was both Leader of the House and Leader of the Opposition.
Having studied at the University of Malta, Lawrence Gonzi practised law with a private firm, the Mizzi Organisation, where he served as Group Chairman between 1989 and 1997. Throughout his legal career he specialised in commercial law, maritime law, and employment and industrial relations.
The political and religious turmoil in Malta during the 1980s moved him to get involved in local politics. After unsuccessfully contesting the 1987 general election with the Nationalist Party, Dr. Gonzi was appointed Speaker of the House of Representatives on October 1988. During his two terms as Speaker he overhauled the methods by which Parliament operated, including setting up permanent committees and introducing new procedures with regards to government accountability and transparency in a parliamentary democracy.
In October 1996 Dr. Gonzi was elected to Parliament where he also served as Whip for the Opposition. In 1997 he was elected Secretary General of the Nationalist Party which went on to win the 1998 elections after which he was appointed Minister for Social Policy, Leader of the House of Representatives and Deputy Prime Minister – positons he held until 2004.
As Minister for Social Policy, Dr. Gonzi was the driving force behind many social and economic reforms. In the run-up to Malta's accession to the European Union the need to overhaul industrial relations legislation became pressing and Dr. Gonzi drafted and piloted the Employment and Industrial Relations Act (2002). He was also instrumental in setting up the framework for the Malta Council for Economic and Social Development, enabling social partners to have a functional forum where they could meet to make recommendations on social and economic matters. These employment and industrial relations reforms were applied to the restructuring of the Malta shipyards, and the introduction of a stringent zero-tolerance policy for benefit fraud. In 2004 Dr. Gonzi became leader of the National Party and appointed Prime Minister and Minister of Finance just months before Malta joined the European Union in May 2004.
As Prime Minister and Minister of Finance Dr Gonzi successfully managed the process to achieve the Maastricht convergence criteria, allowing Malta to join the Eurozone on January 1, 2008. He embarked upon a drive to improve the management of public finances, focused sharply upon improving Malta's competitiveness in the international market and accelerated the restructuring process of the public sector while stressing the need for sustainable development and environmental stewardship on the islands, as well as strengthening the education and healthcare sectors.
Gonzi stressed the importance of attracting high-value-added sectors of the economy, particularly information technology, biotechnology and pharmaceuticals. He pushed for the privatisation of the Malta shipyards and for reform of the pension system, to guarantee their future sustainability. Despite the cost to his party and personal popularity, he continued to push through these reforms, making Malta an attractive location for foreign direct investment in financial services, information technology, maritime and aviation hubs and manufacturing clusters. Gonzi also succeeded in securing for Malta €2.4 billion in EU funds from 2007 onwards, and achieving a voluntary EU burden-sharing agreement on illegal migration.
Re-elected in 2008, Dr. Gonzi's second government focused on the repercussions of the economic and financial crisis of 2008-11, the market volatility caused by the price of oil reaching record high levels and the Arab Spring especially the Libya crisis. During this period his cabinet initiated various projects, such as SmartCity Malta and an architectural showcase project in Valletta. Financial aid and support were provided to local industries and investment continued unimpeded, keeping unemployment low in the country. Guarantees were also provided to public-sector companies giving them time to restructure and achieve financial viability. As a result Malta experienced consistent economic growth and stable employment levels which exceeded EU averages notwithstanding the economic turmoil which, during this period, was predominant in the global economies including the Eurozone.
Activity after Public Politics
Lawrence Gonzi is very active in the voluntary sector, particularly in areas relating to disability and mental health issues. He was the first chairman of the Kummissjoni Nazzjonali Persuni b' Diżabilità, a national commission for persons with disability, and also served as general president of the Malta Catholic Action Movement between 1976 and 1986.
In 2013 he led the Commonwealth Observer Group for the Maldivian presidential election. He has given lectures at a number of universities and various conferences and in 2014 published "Gonzi & Malta's Break with Gaddafi – Recollection of a Premier".
Lawrence Gonzi became a Member of the Global Leadership Foundation in 2016. He has been involved in a GLF project in Africa.
Membership and Associations
Board Member of the Fondazione Centesimus Annus
Member of the Honorary Board of the Wilfred Martens Centre for European Studies