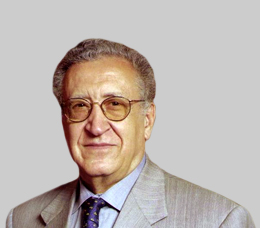 Lakhdar Brahimi
Foreign Minister, Algeria 1991-1993
UN Special Adviser to the Secretary-General 2004-2005
Lakhdar Brahimi
Foreign Minister, Algeria 1991-1993
UN Special Adviser to the Secretary-General 2004-2005
Public Career
During Algeria's independence movement, Lakhdar Brahimi was the National Liberation Front (FLN) representative in South-East Asia between 1956 and 1961, resident in Jakarta.  He then served as Algeria's Ambassador to Egypt and the Sudan, as well as Permanent Representative to the Arab League in Cairo, until 1970, before being appointed as Algeria's Ambassador to the UK, a post he held until 1979.
Between 1982 and 1984 he was the Diplomatic Adviser to the President of Algeria.
From 1984 to 1991 Mr. Brahimi held the post of Under-Secretary-General of the League of Arab States during which period (1989-1991) he served as the Special Envoy of the Arab League Tripartite Committee to Lebanon, mediating the end of the civil war in that country.
Mr. Brahimi was then appointed Minister for Foreign Affairs of Algeria, serving as Rapporteur to the 1992 United Nations Conference on Environment and Development (the Earth Summit).
Mr. Brahimi served as the United Nations Special Representative for South Africa from December 1993 to June 1994, during which time he led the United Nations Observer Mission until the 1994 democratic elections that resulted in Nelson Mandela taking the presidency of post-apartheid South Africa.
He was then appointed Special Representative for Haiti from 1994 to 1996 and Special Envoy for Afghanistan from July 1997 to October 1999.   During these years he also undertook special missions on behalf of the Secretary-General to a number of countries, including Zaire (now DRC), Yemen, Liberia, Nigeria and Sudan.
As Special Representative of the Secretary-General for Afghanistan and Head of the United Nations Assistance Mission in Afghanistan (from 3 October 2001 to 31 December 2004), Mr. Brahimi was entrusted with overall authority for the political, human rights, relief, recovery and reconstruction activities of the United Nations in Afghanistan. In between his Afghanistan assignments, Mr. Brahimi served as Under-Secretary-General for Special Assignments in Support of the Secretary-General's Preventive and Peacemaking efforts. In this capacity, he chaired the independent Panel on United Nations Peace Operations, established by Secretary-General Kofi Annan. The report, released by the Panel in 2000 and known as the "Brahimi Report", assessed the shortcomings of the existing system of peacekeeping and made specific recommendations for change, focusing on politics, strategy and operational and organizational areas of need.
Following the US-led invasion and occupation of Iraq, Mr. Brahimi was appointed Special Envoy of the UN Secretary General to Iraq in January 2004 to help form an interim administration which aimed to restore Iraq's sovereignty.
In 2008, after the terrorist bombing of UN premises in Algeria, Mr. Brahimi was appointed by UN Secretary-General Ban Ki-Moon as Chair of an Independent Panel to review the Security of UN Staff and property around the world.
Activity after Public Politics
Mr. Brahimi was one of the founders of the French language version of the Journal of Palestine Studies and has taught at the Institut D'Etudes Politiques (Sciences-Po) in Paris in 2011 and 2012 and is a W.D. White Professor at Large at Cornell University.
Together with fellow GLF Member, Thomas Pickering, Lakhdar Brahimi co-chaired an international task force on Afghanistan, organised by the Century Foundation. Their findings and recommendations seek to determine what kind of political path might lead to ending the war. 
Between August 2012 and May 2014 Mr. Brahimi served as the UN-Arab League Peace Envoy to Syria.
In June 2014 he was appointed to serve as a Member of the AU Panel of the Wise.
Lakhdar Brahimi has been a member of Global Leadership Foundation since 2008 and has been involved in two projects in Asia.
Memberships and Associations
Member Emeritus of The Elders
Member of the African Union Panel of the Wise
Member of Board of Stockholm International Peace Research Institute