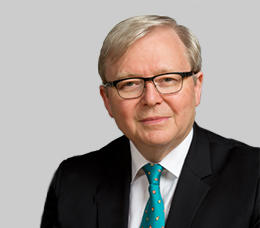 Kevin Rudd
Prime Minister, Australia 2007 - 2010 and 2013
Climate change: The Ball Is In China's Court To Do More On Emissions Cuts
by KEVIN RUDD
Published: South China Morning Post, 07 May 2021
US-China relations might be at their lowest point in nearly 50 years, but the importance of US-China action on climate change is greater than ever. From this action, collaboration can blossom.
When the two countries established diplomatic relations in 1979, the concentration of carbon dioxide in the atmosphere was around 336 parts per million – just shy of what scientists consider safe for human civilisation. Today, we are at 417 parts per million and this continues to rise.
The United States might be the largest historical emitter, but China is the largest emitter today and the gap is widening. With US President Joe Biden's commitment last month to halve emissions by 2030, the US share of global emissions will fall further in the coming decade. Conversely, China's share of global emissions will grow rapidly, given that the government does not plan to hit peak emissions before the end of the same decade.
While President Xi Jinping's announcement last month that China will reach peak coal emissions by 2025 was welcome, it was also unsurprising if the country is to be able to reach its goal to peak overall carbon emissions just a few years later, given that 60 per cent of these emissions stem from coal.
Therefore, the challenge for China remains what more it can do to tackle climate change – for itself and for the world. In many ways, the fate of the Paris Agreement and its goals rests on the decisions Beijing will take this decade and the impact this will have on other capitals, including New Delhi.

To make the most of this transition, geopolitically and economically, China will need to be able to outline additional steps it will take this year, and especially in the lead-up to COP26 in Glasgow. 
The risk otherwise is that a critical window for domestic policy planning is missed in the context of implementing the 14th five-year plan and internationally in advancing updated targets under the Paris Agreement's mechanism for ratcheting up ambition.
To begin with, China must strive to reach carbon neutrality as soon as possible, ideally as close as possible to 2050 as more than 100 other countries – including dozens of other developing nations – have pledged to do. Clearly, the first step towards reaching carbon neutrality is for China to peak its emissions.
The risk in focusing on the destination is that we ignore the pathway. Simple mathematics tells us that if China does not peak its emissions by 2025 rather than 2030 and sustain deep cuts through to mid-century, our attempts to stay within the goals of the Paris Agreement will be for nought.
What all this shows is that there remains a big gap between Xi's carbon neutrality vision and the reality of China's short-term commitments. This gap must be resolved soon, including if Xi's pledge is to remain credible in the eyes of the world and the impact of his international announcements are seen to be backed up by action throughout the Chinese government.
Xi's announcement last month did put the domestic coal sector on notice that it must be part of the collective effort to tackle climate change. It called even more into question the economic viability of several coal-fired power stations approved as part of China's efforts to stimulate the economy in the wake of Covid-19.
Any new coal-fired power stations brought online now will almost certainly be stranded assets, especially as China will need to phase out all coal-fired power by 2040 if it is to reach its carbon neutrality pledge. The key question is how far China is prepared to go above the 1,100 gigawatt cap on coal that was established in the 13th five-year plan before it hits peak consumption.
Even if it is not codified in formal policy documents, internationally, there is hope China will cap emissions at 10 billion tonnes of carbon dioxide by 2025 and control non-carbon-dioxide emissions at 2 billion tonnes. This, in effect, would mean limiting total coal power capacity to the same level as in 2020.
Doing this would also hold an important and symbolic silver lining. It would mean China would for the first time reduce the share of coal in total energy consumption to below 50 per cent.
This would generate tremendous goodwill and prestige among the international community. Xi's announcement last month positions this as a key area for further elaboration this year alongside a retreat from China's support for the overseas financing of coal through the Belt and Road Initiative. All this will help smooth the way for US-China collaboration on climate change.
While John Kerry's visit to Shanghai was an important step forward, he has made it clear that, for the US, there are two fundamental preconditions for this engagement to become collaboration.
First, climate change is treated as a stand-alone issue in the bilateral relationship, which is in both countries' interests, given the grievances on both sides, and; second, that China is prepared to demonstrate its propensity to take additional action in the short term which this collaboration could then help support.
The ball is therefore in China's court. That is because Biden's summit showed the world both the strength of his administration's agenda for tackling climate change and the impact this leadership has had on the world in just a few short months.
The fact that several countries – including Japan and South Korea as North Asia's other two big economies – have demonstrated they are now prepared to also take additional steps this decade, including through enhancing their Paris targets and stepping away from their own financing of coal, means there is even greater pressure and an opportunity for China to demonstrate the same.
The good news is that all of this is in China's interests. It is just a matter of whether it is prepared to recognise that.
This is an edited extract of a speech delivered for Tsinghua University's Global Climate Change Lecture