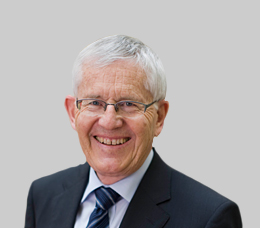 Kaspar Villiger
President, Swiss Confederation 1995 & 2002
Defence Minister 1989-1995
Finance Minister 1996-2003
"A democracy is only as good as its political elite".
Kaspar Villiger
GLF Member
President, Swiss Confederation 1995 & 2002
Defence Minister 1989-1995
Finance Minister 1996-2003
Biographical Information Public Career
As a member of the Radical Free Democratic Party (FDP), Kaspar Villiger began his political career in the cantonal parliament of Luzern, of which he was a member from 1972 until his election to the National Council in 1982. In 1987, Kaspar Villiger was elected to the Council of States and in 1989 elected Federal Councillor (member of the Swiss Government). He headed the Federal Military Department (1989 – 1995) and the Federal Department of Finance (1996 – 2003).
Following his term as President of the Swiss Confederation in 1995, Villiger served a second time in 2002 and then stepped down from his post as a member of the Swiss government in 2003.
Activity after Public Politics
During his career in business, Kaspar Villiger was vice-president of the Chamber of Commerce of Central Switzerland, committee member of the Swiss Employers` Central Association and vice-president of the Chamber of Industry and Commerce of the Canton of Aargau. He has also Kaspar Villiger has also served on the Boards of of Nestlé S.A., Vevey, Swiss Re, Zurich and Neue Zürcher Zeitung AG, Zurich.
On many occasions he has been brought back into Swiss politics to assist with economic crises, such as the collapse of Swissair, the restructuring of Swiss federal finances, and the negotiations of the Savings Tax Agreement with the European Union.  Most recently, he served as Chairman of the Board of Directors of UBS AG between 2009-12 during the financial crisis.. He resigned from this position only when UBS was again stable and well capitalised, had resolved its problem with the U.S. government and after the Swiss Government had been able to sell its stake in UBS at a large profit.
Kaspar Villiger is currently Chairman of the UBS Foundation of Economics in Society which has invested CHF 100 million in the Department of Economics at the University of Zurich to study open economic questions that remained unresolved during the financial crisis.
Kaspar Villiger was a founding Member of the Global Leadership Foundation in 2004. He has been part of GLF project teams which visited two countries in Africa.