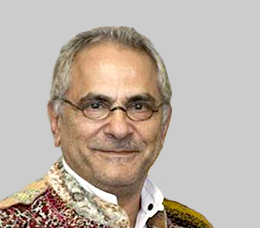 Jose Ramos-Horta
President, Timor-Leste 2007-12
Prime Minister 2006-07
"In victory be magnanimous, never seek to humiliate the adversary; if he is on his knees hold his hands and plead with him to rise up, embrace him; walk halfway and meet the vanquished ones, embrace them, invite them to join in a new enterprise of peace, a new future for all."
"No one wants to be in opposition. Through education, habits, years, you learn to be in opposition."
"In some countries, respecting diversity is perceived as undermining the State when in fact we should look at this as wealth."
Jose Ramos-Horta
GLF Member
President, Timor-Leste 2007-12
Prime Minister 2006-07
Public Career
José Ramos-Horta served as President of Timor-Leste between 2007 and 2012, having served as Prime Minister and Minister of Defence from 2006 to 2007 and as Minister for Foreign Affairs and Cooperation from 2002 to 2006.
Between 1975 and 1999, he was Minister for Foreign Affairs and Information in the first government of Timor-Leste which was proclaimed in December 1975 following the country's Unilateral Declaration of Independence. He was also Representative and Spokesperson for the Resistance during this time.
José Ramos-Horta began his career in journalism in 1969 as co-founder of FRETILIN, the Revolutionary Front for the Independence of Timor-Leste. In 1975, after more than 400 years of Portuguese occupation, FRETILIN proclaimed independence and established the Democratic Republic of Timor-Leste. Having been appointed as FRETILIN's Minister for External Affairs and Information, he was asked to travel overseas to gain international support for the new country and left Timor-Leste for New York on 4 December that year. Three days later, Indonesia invaded and occupied the island.
Between 1975 and 1999, José Ramos-Horta travelled extensively lobbying governments and creating networks of supporters for the cause of his people. In 1990 he settled in Sydney, Australia, and founded the Diplomacy Training Program in the University of New South Wales, where he lectured on the United Nations system and created and directed UN Security Council models.
In December 1996 José Ramos-Horta and Bishop Carlos Belo were awarded the Nobel Peace Prize for "their work towards a just and peaceful solution to the conflict in Timor-Leste".
In 1999 José Ramos-Horta returned to his homeland after almost 25 years in exile to contribute to the negotiations that led to Timorese independence. As a Cabinet Member of the United Nations Transition Administration for East Timor (UNTAET) from 2000 to 2002, he helped to bring about peaceful elections for the country's new Parliament and President in 2001 and 2002 respectively. When a crisis in 2006 nearly plunged the country into political turmoil he successfully stabilized the situation by securing the intervention of foreign peacekeeping forces.
José Ramos-Horta mediated numerous disputes and conflicts in Timor-Leste over more than 10 years, ranging from youth gang violence and land disputes to crises within the military, police and political elites. He conceived several initiatives, including the "Dili, City of Peace" Campaign, the Dili International Marathon, the Tour de Timor and anti-poverty initiatives.
During his years in exile he completed the Executive Program for Leaders in Development at Harvard University (1998) and was a senior associate member of St. Anthony College, Oxford, England (1987). He received an MA in Peace Studies from Antioch University, Ohio (1984) and attended and completed courses in Public International Law at The Hague Academy of International Law and in International Human Rights Law at The International Institute of Human Rights, Strasbourg (1983). He has also completed an Advanced Diploma in Public Relations at the Centro Internacional de Marketing between 1970 and 1974.
José Ramos-Horta has received numerous honorary doctorate degrees from universities in Australia, Japan, Thailand, the Philippines, the Republic of Korea, Portugal, Brazil and the USA. He was a Visiting Professor with Ewa Women's International University in Seoul from 2007 to 2012.
José Ramos-Horta's mediation work has included negotiating with hostage takers in Colombia in 1998 when he successfully secured the release of 15 hostages held by the Ejercito de Liberación Nacional (ELN). He was also Special Envoy of the Community of Portuguese Speaking Countries (CPLP) which mediated the conflict in Guinea-Bissau in 2003 and 2004.
In addition to the Nobel Peace Prize, José Ramos-Horta has received numerous other awards including the Order of Timor-Leste (2012), the Order of Dom Boaventura (2006) and others from Portugal, Brazil, Cuba and Cape Verde.
His books and other writings include: FUNU: The Unfinished Saga of East Timor (1987), Timor-Leste: Amanha em Dili, (1994), A Matter of Principle: Humanitarian Arguments for War in Iraq, edited by Thomas Cushman (2005) and The Lost World of Timor-Leste (2010).
José Ramos-Horta has also written extensively on international affairs for the International Herald Tribune, New York Times, Wall Street Journal, Huffington Post and The Daily Beast/Newsweek among others.
Activity after Public Politics
José Ramos-Horta is currently a Member of the Council of State, an Advisory Body to the President of the Republic of Timor-Leste.
In 2013-14 he served as Under-Secretary-General, Special Representative of the UN Secretary-General and Head of the UN Integrated Peace Building Mission in Guinea-Bissau (UNIOGBIS).
In October 2014 José Ramos-Horta was appointed by UNSG Ban Ki-moon to chair a new High Level Independent Panel on Peace Operations, which will consider a broad range of issues facing peace operations, including the changing nature of conflict, evolving mandates, good offices and peace-building challenges, managerial and administrative arrangements, planning, partnerships, human rights and protection of civilians, uniformed capabilities for peacekeeping operations and performance.
José Ramos-Horta has lectured extensively in Australia, New Zealand, Thailand, Portugal, France, Germany and the US. He is a Doctorate candidate at the Universidade do Minho in Braga, Portugal, has been a Visiting Professor at the University of South Wales since 1996 and has been a Distinguished Visiting Professor at Victoria University, Melbourne since 2007.
Besides his mother-tongues of Tetum and Portuguese, José Ramos-Horta is fluent in English, French and Spanish.
Jose Ramos-Horta has been a Member of the Global Leadership Foundation since 2013. He has been involved in a GLF project in Africa.
Memberships and Associations
Chairman of the Advisory Board for TheCommunity.com
Vice President of the Asian Peace and Reconciliation Council
Commissioner for The Global Commission on Drug Policy
Member of Club de Madrid
Honorary Advisory Council Member of the Institute for Global Law and Policy at Harvard University