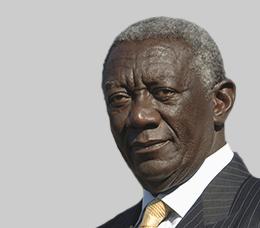 John Kufuor
President, Ghana 2001-2009
President, Ghana 2001-2009
John Kufuor served as President of Ghana from 2001 to 2009.
Public career
John Kufuor served as President of Ghana for two terms from 2001–09.
During his Presidency Ghana witnessed the fastest growth in its history, attaining middle-income status by 2006, earlier than projected by Ghana's own development agenda, with GDP reaching record growth of 8.4% between 2007 and 2008, even in the midst of the international financial and economic crises.
In his capacity as Chairman of the AU from 2007-08 President Kufuor supervised the peaceful resolution of the electoral conflict in Kenya in 2008 and, as chairman of the Economic Community of West African States (ECOWAS) from 2003-05 he oversaw the successful negotiations that brought peace and major post-war reconstruction to Sierra Leone, Ivory Coast and Liberia.
Earlier in his career, he was twice elected Member of Parliament (1969–72) and (1979–81). He served as a Deputy Minister of Foreign Affairs (1969-720 and represented Ghana's delegation to the United Nations (UN) in 1970; Secretary for Local Government; and chief legal officer and city manager of Kumasi, the second largest city in Ghana.
President Kufuor introduced a health insurance scheme which offered free maternal care for pregnant women and instituted the Free School Feeding programme for school children aged 4-16 years.  Following Kufuor's reintroduction of Ghana's Agricultural Extension Services programme cocoa production doubled from 350,000 tons to 734,000 a year between 2002-05, an all-time record in more than a century of cocoa production in the country. Production of food crops, livestock and fish also increased dramatically with poverty levels in Ghana cut in half early in his administration. Roads, schools and hospitals also benefitted from robust infrastructural development programmes.
Activity after public politics
In retirement from public office John Kufuor set up the John A Kufuor Foundation for Leadership, Governance and Development.
In 2011 he was named joint-winner of the World Food Prize for Food and Agriculture along with former Brazilian President Lula da Silva.
In December 2013 John Kufuor was appointed by the UN Secretary General as one of two Special Envoys on Climate Change. He is also currently the Global Ambassador against Hunger for the UN World Food Programme and serves on a task force working on the reform of the World Bank and the International Monetary Fund.
He has led several election monitoring delegations in Africa under the auspices of the AU and ECOWAS and has received numerous awards including the Chatham House Prize for Good Leadership (UK); the Bundesverskkreuz (Germany); and the Grand Cordon in the Most Venerable Order of the Knighthood of the Pioneers (Liberia).
Memberships and Associations
Chairman of John A. Kufuor Foundation

International Advisory Board

Member of MTN

Member of Club de Madrid