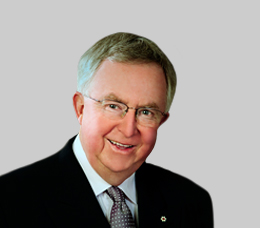 Joe Clark
Prime Minister, Canada 1979-1980
Secretary of State for External Affairs 1984-1991
"GLF essential attributes are experience, authority and disinterested judgement which – taken together – can be the catalyst which helps governments break out of apparent dead ends".
Joe Clark
GLF Member
Prime Minister, Canada 1979-1980
Secretary of State for External Affairs 1984-1991
Biographical Information
Joe Clark was elected Prime Minister of Canada in the general election of 1979 and served later seven years as Secretary of State for External Affairs (Foreign Minister). Joe Clark was also Minister of Constitutional Affairs and Acting Minister of both National Defence and Justice.
He served twice as Leader of Her Majesty's Loyal Opposition, and as National Leader of the Progressive Conservative Party of Canada. The Right Honourable Joe Clark was elected eight times to the House of Commons of Canada, retiring in June 2004.
Activity after public politics
Mr. Clark served as Special Representative of the Secretary-General of the United Nations for Cyprus from 1993-96. He belongs to a number of public policy organisations and international NGOs and has led or co-led Election Observation teams in Mexico, the Dominican Republic, Cameroon, Democratic Republic of Congo, Nigeria, Lebanon and Pakistan.
He has been a visiting scholar at the University of California, Berkeley and American University in Washington, DC, a Public Policy Scholar at the Woodrow Wilson International Center for Scholars and is author of two books on Canada –  "Canada: A Nation Too Good To Lose" and "How We Lead: Canada in a Century of Change".
Mr. Clark is a Companion of the Order of Canada, a member of the Alberta Order of Excellence, and l'Ordre de la Pleiades, and has been awarded several honorary degrees. He was the first recipient of the Vimy Award (which is presented to the Canadian citizen who has made an outstanding contribution to the security of Canada and the preservation of its democratic values).
Mr. Clark is President of Joe Clark and Associates, an international consulting firm based in Canada.
Joe Clark has been a Member of the Global Leadership Foundation since 2010 and served as the Foundation's Vice Chair from 2010 to 2019.  He continues to serve as a Member of the Board of GLF and has been involved in a number of projects in Africa and the Americas.
Memberships and Associations
Chair of Supervisory Board of Meridiam Infrasructure, Africa
Chair of the Advisory Board of The Ottawa Dialogue
Chair of the Awards Committee of the Global Centre on Pluralism

Board Member of GlobeScan Incorporated

Supervisory Board Member  and Member of the Mission Committee of Meridiam Infrastructure S.a.r.l.

Member of the Advisory Board of the Institute for the Study of International Development, McGill University, Montreal

Member of the Board of Lumenix (AIMS)

Fellow of the Munk School of Global Affairs at the University of Toronto