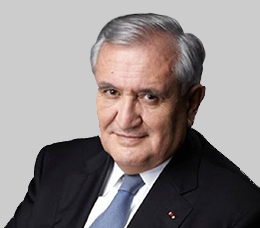 Jean-Pierre Raffarin
Prime Minister, France 2002-2005
Prime Minister, France 2002-2005
Jean-Pierre Raffarin served as Prime Minister of France from 6 May 2002 to 31 May 2005. 
Public career
Born in 1948 in Poitiers, Jean-Pierre Raffarin studied law at Panthéon-Assas University and graduated from l'École Supérieure de Commerce de Paris (ESCP). Having begun his professional career in the industrial and communication fields, he became involved in local politics in the late 1970's. In 1988 he became President of the Regional Council of Poitou-Charentes, served as a Member and Questor of the European Parliament from 1989-1995 and as Senator of Vienne from 1995-2017.
1995 and 1997 M. Raffarin was Minister of Small and Medium Enterprises, Commerce and Craft before being appointed Prime Minister in 2002 by Jacques Chirac.
M. Raffarin served as Vice-President of the Senate 2011 to 2014 and was also Chairman of the Senate's foreign affairs, defence and armed forces commission from October 2014 to July 2017. 
Activity after public politics
Jean-Pierre Raffarin has been particularly active on the international stage, where he acted as the President of the Republic's personal representative for La Francophonie from 2009 to 2012, and as special Envoy of the President of the Republic for the French-Algerian economic relations. He is, since January 2018, the Special Representative for China for the French Government, Chairman of France—China Committee, a Board member of the Boao Forum for Asia and the Chairman of the Fondation pour la Prospective et l'Innovation. He is also the founder of Leaders For Peace, an NGO which works to heighten public opinion and leaders' awareness of the risks of regional and international armed conflicts.
M. Raffarin has been a senior lecturer at the Institut d'Études Politiques of Paris and today at ESCP Europe.
M. Raffarin became a Member of the Global Leadership Foundation in 2018.
Memberships and Associations
Chairman of the Foundation Prospective and Innovation
Chairman of the Leaders for Peace
Chairman of the France—China Committee Annual Forum
Board Member of China Europe International Business School (CEIBS) in Shanghai
Board Member of Praemium Imperial – Tokyo
Advisor of BOAO Forum (Asia)
Personal Representative of the President of the Republic for La Francophonie, 2009-12