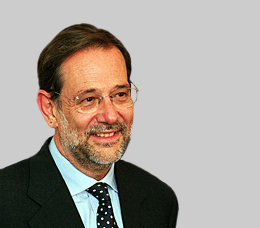 Javier Solana
Secretary General, Council of the European Union 1999-2009
Secretary General, NATO 1995-1999
Foreign Minister, Spain 1992-1995
Secretary General, Council of the European Union 1999-2009
Secretary General, NATO 1995-1999
Foreign Minister, Spain 1992-1995
Biographical Information
In national politics, Dr. Solana served in Felipe Gonzalez's successive governments from 1982 to 1995, holding the portfolio of Minister for Foreign Affairs from July 1992 to December 1995.
In the international sphere, Dr. Solana was appointed Secretary General of NATO on 5 December 1995. During his mandate, which coincided with a significant phase in European history, NATO went through a crucial stage in its development. It despatched a peace-keeping force, under a United Nations mandate, to Bosnia and Herzegovina. It also negotiated and signed the Founding Act on Mutual Relations, Cooperation and Security between NATO and the Russia Federation which opened the way to a new co-operation and consultation partnership between Western Europe and Russia.
In 1997 Dr. Solana chaired the NATO Summit in Madrid at which the Alliance invited the Czech Republic, Hungary and Poland to begin talks on joining the Alliance, thus opening NATO's doors to the East and helping to transform the political map of Europe.
In the European Union, Dr. Solana was appointed Secretary General of the Council of the EU and the first High Representative for the Common Foreign and Security Policy (CFSP) in June 1999 and officially took office on 18 October 1999. A month later he was also appointed Secretary General of the Western European Union (WEU). In June 2004, the European Council renewed his mandate as High Representative for a second term until 2009.
Dr. Solana has received decorations from various countries, and has been awarded the degree of Doctor Honoris Causa by different universities worldwide. He is Senior Visiting professor at the London School of Economics, where he was awarded an Honorary Degree in December 2010.
Memberships and Associations
President of the Center for Global Economy and Geopolitics at ESADE (Barcelona – Madrid)
President of Madariaga-College of Europe Foundation
Chairman of the Aspen Institute España
Board Member of International Crisis Group
Board Member of Human Rights Watch
Board Member of the European Council on Foreign Relations
Board Member of Fundación La Caixa
Board Member of Museo Nacional del Prado
Board Member of Yalta European Strategy
Member of Global Commission on Drug Policy
Senior Visiting Professor at the London School of Economics Global Governance
Distinguished Senior Fellow in Foreign Policy at the Brookings Institution
Fisher Family Fellow at Harvard Kennedy School
Senior Fellow of Hertie School of Governance
Honorary President of the Centre for Humanitarian Dialogue
Advisor of Institute of Modern International Relations, Tsinghua University