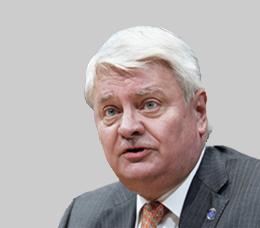 Hervé Ladsous
United Nations Under-Secretary-General for Peacekeeping Operations, 2011-2017
United Nations Under-Secretary-General for Peacekeeping Operations, 2011-2017
Biographical Information
Hervé Ladsous held a broad range of positions in France's Ministry of Foreign Affairs since joining in 1971. As a junior diplomat, he was posted to Hong Kong, Canberra and Beijing, in addition to being a member of the permanent representation to the United Nations in Geneva. After having served as Deputy-Director General of the Department for the Americas, he was appointed Chargé d'affaires ad interim in Haiti, before becoming Deputy Permanent Representative to the United Nations in New York.
He was Permanent Representative to the Organization for Security and Co-operation in Europe (OSCE) in Vienna and Ambassador to Indonesia and Timor-Leste, before holding senior posts in Paris as Spokesperson for the Foreign Ministry and Director General for Asia and Oceania.
He then served as Ambassador to China before being appointed Chief of Staff to the Minister for Foreign Affairs, the position he held before his appointment as the UN Under-Secretary-General for Peacekeeping Operations.
Mr. Ladsous holds a law degree and a diploma in Chinese and Indonesian Malay from the National School of Oriental Studies in France.
Hervé Ladsous joined GLF in 2017. He has been involved in a GLF project in Eurasia.