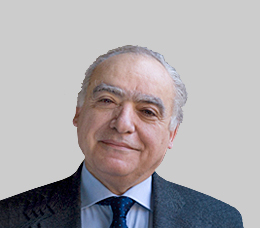 Ghassan Salamé
UN Special Advisor to Secretary-General, 2003-2006
Lebanese Minister of Culture, 2000-2003
UN Special Advisor to Secretary-General, 2003-2006
Lebanese Minister of Culture, 2000-2003
Public Career
Between 2003 and 2006 Ghassan Salamé was Senior Advisor to the United Nations Secretary-General, serving also in 2003 as Political Advisor to the UN Mission in Iraq. Prior to this Ghassan Salamé was Lebanese Minister of Culture from 2000 to 2003.
After studying law and political science in Paris, Ghassan Salamé taught international relations at the American University of Beirut and Saint Joseph University in Beirut and, later, at the University of Paris.
Having served as an advisory to the Lebanese government and parliament in the 1980's and 1990's, Ghassan Salamé was appointed Lebanon's Minister of Culture in 2000, in charge of national heritage and the arts. Between 2000-03 he served on several inter-ministerial committees, notably on the reform of the Higher Education system, jobs for university graduates, productivity in the public administration and e-government. During this time he was appointed Chairman of the Committee and Spokesman for the Arab Summit (March 2002) and for the Francophone Summit (October 2002) in Beirut.
Ghassan Salamé was Political Advisor to the UN Mission in Iraq (2003) and Senior Advisor to the United Nations Secretary-General (2003-2005 and again since August 2012).
Activity after Public Service
Ghassan Salamé is currently professor of International Relations at Sciences-Po (Paris) and the founding Dean of its Paris School of International Affairs – PSIA.
Dr Salamé has served as the Vice-Chairman of the Board of the International Crisis Group (Brussels) and sat on the board of the Open Society Institute (New York), the Council of the International Institute for Strategic Studies and a few other not-for-profit organisations. He is the founding chairman of the Arab Fund for Arts and Culture (Beirut).
Through his many scholarly pursuits, Ghassan Salamé is recognized as one of the most respected actors and observers of conflict resolution and Middle East politics and as a widely read expert on international relations. He has written a number of books on the state and society in the Arab Levant, and edits (inter alia) Democracy Without Democrats: Politics of Liberalization in the Arab and Muslim World; The Politics of Arab Integration and The Foundations of the Arab State.
His essays have been published in Foreign Policy, Revue française de science politique, European Journal of International Affairs, The Middle East Journal and other scholarly journals.
Ghassan Salamé has a PhD in Literature and a PhD in Politics at Paris I University, a master's degree in Lebanese and French law, and a number of qualifications in the arts.
He was given the Phenix (Beirut), ADELFI (Paris) and Al-Idrissi (Rome, 2012) awards, and the Medaille of the Academie Francaise (2003), made Chevalier de la Legion d'honneur (France, 2004) and named 'The Arab Cultural Personality of the Year' (UAE, 2004).
Ghassan Salamé has been a Member of the Global Leadership Foundation since 2013.
After two years as the UN Envoy to Libya, in 2020, Ghassan Salamé recently stepped down from the role.
Memberships and Affiliations
Chairman, Arab Fund for Arts and Culture
Co-founder of The Euro-Mediterranean Chair, The European University Institute
Board Member of the International Peace Institute
Board Member of the Open Society Foundations
Board Member of the Centre for Humanitarian Dialogue
Board Member of the Arab Anti-Corruption Organization
Board Member of the Bibliotheca Alexandrina
Member of the Advisory Commission on Rakhine State
Trustee of the International Crisis Group