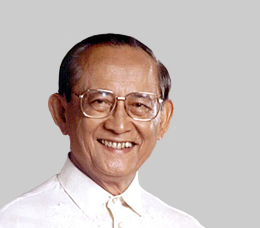 Fidel Valdez Ramos
President, Republic of the Philippines 1992-98
President, Republic of the Philippines 1992-98
Public Office
Fidel Ramos was President of the Philippines from 1992 to 1998. Under his leadership the Philippines experienced a period of political stability and rapid economic growth and expansion.
Prior to his election as president, Fidel Ramos served as Secretary of National Defence (1988-1991) and Chief of Staff of the Armed Forces of the Philippines (1986-1988) with the rank of General.
As President, Fidel Ramos's policies and programmes to foster national reconciliation and unity led to major peace agreements with Muslim separatists, communist insurgents and military rebels, which renewed investor confidence in the Philippine economy. Ramos pushed for the deregulation of key industries and the liberalization of the economy. He encouraged the privatization of public entities, to include the modernization of public infrastructure through the expanded Build-Operate-Transfer (BOT) law. During the years 1993-1997, the Philippine economy recovered dramatically. Gross National Product averaged 5 percent annually, the total inflow of foreign exchange into the country outpaced that of the combined periods of rule of both Presidents Marcos and Aquino, and the average income of the Filipino family grew more during Ramos' administration than in the preceding two decades. This allowed Fidel Ramos' government to implement a comprehensive Social Reform Agenda (SRA) that addressed long-standing problems regarding poverty, health, education and skills training, housing, environmental protection, children and the youth, the elderly and the handicapped, jobs and livelihood, agrarian reform and access to equal opportunity.
The peace agreement which Ramos brokered with military rebels and the MNLF southern secessionists won for him (together with Chairman Nur Misuari) and the Philippines the coveted 1997 UNESCO Peace Prize – the first for Asians. His public service spanned a total period of 51 years.
Activity after public politics
Ramos founded the Ramos Peace and Development Foundation, a non-partisan and non-profit organisation dedicated to the promotion of peace and development in the Philippines and in the larger Asia-Pacific region.
In 1998, together with Bob Hawke, former Prime Minister of Australia, and Morihiro Hosokawa, former Prime Minister of Japan, Ramos founded the Boao Forum for Asia (BFA), a premier forum for leaders in government, business and academia in Asia and other continents who are committed to promoting regional economic integration and bringing Asian countries even closer to their development goals.
Fidel Valdez Ramos was a founding Member of the Global Leadership Foundation in 2004.
Memberships and Associations
Founding Member of the Policy Advisory Commission, World Intellectual Property Organization (PAC-WIPO)
Advisory Group Member of the UN University for Peace
Trustee of the International Crisis Group (ICG)
Honorary Director of the General Douglas MacArthur Foundation