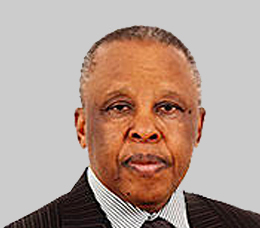 Festus Mogae
President, Botswana 1998-2008
President, Botswana, 1998-2008
President Festus G. Mogae led the Republic of Botswana from 1998 to 2008. Under his leadership, Botswana experienced the steady economic growth that has characterized its post-independence history.
Having trained as an economist at the Universities of Oxford and Sussex, in 1968 Festus Mogae took up a post at the Ministry of Finance and Development Planning, progressing to become Director of Economic Affairs.
Between 1975 and 1976 he was Permanent Secretary to the Minister of Finance and Development Planning and between 1981 and 1982 served as Governor of the Bank of Botswana. From 1982 to 1989 he served as Permanent Secretary to the President, Secretary to the Cabinet and Supervisor of Elections before being appointed Minister of Finance and Development Planning.
In 1992 he became Vice President of Botswana before becoming President in 1998. In 1999, when his party, the Botswana Democratic Party (BDP), retained power in the October general election, Mogae was sworn in for what would be the first of two 5-year terms in office during which time he sought to tackle poverty, unemployment, as well as the spread of HIV-AIDS.
Activity after public politics
On 5 August 2008 Mogae launched the Champions for an HIV-free Generation, a group of renowned African leaders calling for their peers to rethink and step up efforts to prevent the spread of HIV.
Alongside Presidents Chissano and Mbeki, he led the mediation on the dispute over the boundary along Lake Malawi between Malawi and Tanzania.
On 28 February 2015 he led the Commonwealth observers for the Lesotho elections.
In November 2015 he began his duties as South Sudan's Chairperson of the Joint Monitoring and Evaluation Commission.
Mogae is a former Wilson Center Public Policy Scholar and has chaired the Council of Elders. He currently serves as Special Envoy of the United Nations Secretary-General on Climate Change and is on the advisory board of US nonprofit TeachAIDS.
Memberships and Affiliations
Chancellor of Amref International University
Chairman of the Advisory Board of Coalition of Dialogue on Africa
Chairman of the Absa-Mogae Scholarship Fund
Chair of the Prize Committee of the Ibrahim Prize for Achievement in African Leadership
Co-Chairman of the High Level Review of the Fiduciary Controls Panel of the Global Fund to Fight AIDS, Tuberculosis and Malaria
Member of the Global Commission on Elections, Democracy and Security
Member of Club de Madrid
Member of the Africa Forum
Member of High Level Advisory Panel on Climate Change
Member of Advisory board of TeachAIDS
Member of the Commission on HIV Prevention of UNAIDS
Member of the Commission on HIV and the Law of UNDP
Trustee of African Wildlife Foundation
Trustee of African Leadership Academy
Trustee of Global Advisory Council
Trustee of Mary Robinson Foundation