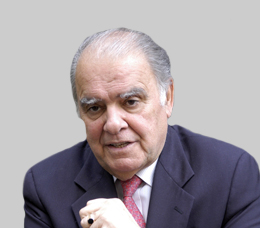 Enrique Iglesias
Foreign Minister, Uruguay, 1985-1988
President of the Inter-American Development Bank 1988-2005
Foreign Minister, Uruguay, 1985-1988
President of the Inter-American Development Bank 1988-2005
Public Office
1985 and 1988 Enrique Iglesias served as Foreign Minister for Uruguay, during which time he chaired the conference that launched the Uruguay Round of international trade negotiations in Punta del Este, Uruguay, in 1986.
He held the post of President of the Central Bank of Uruguay from 1966 until 1988, during which time he was, between 1975 and 1985, the Executive Secretary of the UN Economic Commission for Latin America and the Caribbean and, in 1981, the Secretary General of the UN Conference on New and Renewable Sources of Energy, held in Kenya.
Before this, he taught economic development at Uruguay's Universidad de la República, served as director of its Institute of Economics, and as Managing Director of Unión de Bancos del Uruguay Bank between 1954 and 1966.
Activity after public politics
In 1988 Enrique Iglesias was appointed President of the Inter-American Development Bank (IDB), a post he held for 17 years until 2005.
his leadership, the Bank developed its resources and expanded its activities to become the leading source of multilateral development financing for Latin America and the Caribbean. During Iglesias's first and second terms as president, the IDB concluded negotiations for its Seventh (1989) and Eighth (1994) General Increase in Resources. Respectively, these negotiations increased the Bank's ordinary capital by USD $26.5 billion and $101 billion. Iglesias is a strong proponent of open markets and multilateralism, with an interest in energy reform. Under his leadership the IDB participated in a variety of projects focused on harnessing as-yet untouched energy sources. One such is the Camisea natural gas project in Peru which became the centre of controversy over its impact on the environment and the local indigenous people.
Enrique Iglesias was a member of the of the UN Secretary General's High Level Panel on Threats, Challenges and Change, whose report "A More Secure World: Our Shared Responsibility" was published in December 2004.
Enrique Iglesias resigned from the IDB in 2005 to become the General Secretary of the Iberoamerican General Secretariat (SEGIB) in Madrid, a new organization to facilitate cooperation between Latin America, Spain, and Portugal. He held this post for 9 years, resigning in 2014.
Mr. Iglesias has been awarded a number of honorary degrees and is the recipient of a number of awards and prizes, from Spain, Brazil, France, USA and Japan. He is widely published and his books include:
ECLAC and the Economic Relations of Latin America
Perspectives on Economic Development in Latin America
Uruguay, a Proposal for Change
Latin America on the Threshold of the 1980s
The Energy Challenge
Development and Equity: The Challenge of the 1980s
Enrique Iglesias has been a Member of the Global Leadership Foundation since 2010
Enrique V. Iglesias currently holds the Chair of Latin America at ICADE-Universidad Pontificia de Comillas (Madrid); and serves as Director of the review Pensamiento Iberoamericano. He is also President of the Ibero-American Council for Competitiveness and Productivity.
In 2019 he was appointed EU Special Adviser for Venezuela.
Memberships and Affiliations
Board Member of the International Youth Foundation, IYF
Board Member Inter-American Dialogue
Board Member of the Center for Global Development
Senior Advisory Committee of Partners of the Americas (OAS)
Council Member of the Science and Technology in Society forum
Advisory Board Member of BMB
Member of the Latin America Innovation Advisory Council, OECD Development Centre
Member of the IMF Regional Advisory Group of the Western Hemisphere Department
Member of Emerging Markets Forum
Member of The Club of Rome
Member of Circulo de Montevideo