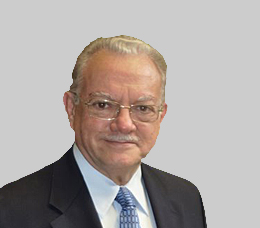 Eduardo Stein
Vice President, Guatemala, 2004-08
Foreign Minister 1996-2000
Vice President, Guatemala, 2004-08
Foreign Minister 1996-2000
Public Career
Dr. Eduardo Stein Barillas was the Vice President of Guatemala, serving from 2004 to 2008.
During the late 1980s and early 1990s Eduardo Stein was actively involved in the Esquipulas peace process in Central America, as well as in the San José Dialogue between Central America and the European Union.
As Foreign Minister under President Álvaro Arzú from 1996 to 2000, Dr. Stein participated actively in Guatemala's Peace Process and in ensuring international support for its implementation.
Following his time as Guatemala's Foreign Minister, Dr. Stein was appointed by the Organisation of American States to head the Electoral Observation Mission in Peru, between February and June of 2001. This was to cover the general elections convoked under the transitional Government of Valentin Paniagua, after the collapse of Alberto Fujimori's Administration. (He had the same responsibility during the previous year, when in 2000 he withdrew the OAS Mission before the runoff election, in protest for the serious irregularities and lack of conditions encountered. His report presented to the Permanent Council concluded that those elections "were neither free nor fair.")
Dr Stein has worked with various international organizations in regional development programs promoted by the Latin American Economic System. From 1993 to 1995, he was Chief of Mission in Panama for the International Organization for Migration before becoming the Regional Project Counsellor for the whole of Central America.
Activity after Public Politics
Since leaving government, Stein has served as a consultant for the International Organization for Migration and the United Nations Development Program.
He chaired the Honduras Truth and Reconciliation Commission which concluded that the removal from office of former President Manuel Zelaya was a coup, and was also chair of the National Dialogue for Social Security reform in Panama. He has served as head of various OAS Electoral Observation Missions, was an advisor to the National Dialogue for Compromise of the State Agenda in Peru and served as president of the Foundation of the Americas.
Stein was one of 12 Members of the International Commission on Intervention and State Sovereignty, founded by Gareth Evans and Mohamed Sahnoun under the authority of the Canadian Government. The Commission worked to popularize the concept of humanitarian intervention and democracy-restoring intervention under the name of "Responsibility to protect" and had as its purpose to arrive at an answer to the following question posed by Kofi Annan: "If humanitarian intervention is indeed, an unacceptable assault on sovereignty, how should we respond to a Rwanda, to a Srebrenica – to gross and systematic violations of human rights that affect every precept of our common humanity?"
In September 2018 the UNHCR and the UN Migration Agency appointed Eduardo Stein to be Joint Special Representative for Venezuelan refugees and migrants in the region.
Eduardo Stein has been a Member of the Global Leadership Foundation since 2012 and has been involved in a GLF project in Central America.
Memberships and Associations
Co-Chair of Regional Migration Study Group, co-sponsored by Migration policy Institute and Woodrow Wilson Centre
Board Member of The Interamerican Dialogue

Board Member of the Global Centre for Pluralism

Member of International Commission on Threats to Democracy 
Member of Asociación de Investigación y Estudios Sociales, ASIES