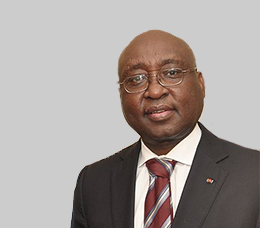 Donald Kaberuka
Finance Minister, Rwanda, 1997-2005
President, African Development Bank 2005-2015
Minister of Finance and Economic Planning, Rwanda 1997-2005
President, African Development Bank 2005-2015
Public Career
Having led Rwanda's post-war economic reconstruction, Donald Kaberuka then served as President of the African Development Bank (AfDB). During a time of great historic change in Africa he led the AfDB on a series of reforms and successfully positioned the bank as a leading institution in Africa, tripling the bank's capital to $100 billion and doubled its portfolio, particularly in infrastructure and private-sector financing.
Having studied at the University of Dar es Salaam and then obtained his MPhil in Development Studies from the University of East Anglia and his PhD in economics from the University of Glasgow, Donald Kaberuka worked in banking and international trade for over a decade. In October 1997 he was appointed Minister of Finance and Economic Planning in Rwanda, a position he held for eight years during which time he is credited with helping to stabilize the Rwandan economy from the effects of the 1994 genocide.
2005 became President of the African Development Bank. During his two terms AfDB strategy was focused on infrastructure development, regional integration, policies to support and enable private enterprise, improved governance and skills and technology acquisition. Total public sector operations spending rose from $3.02 billion in 2005 to $5.14 billion in 2013 and private sector support from $257.4 million in 2005 to $1.62 billion in 2013. Key achievements during his time in office was the adoption of a ten year strategy focused on encouraging private sector activity to absorb the 15 million young people that join the work force every year in Africa the launch of a new fund called Africa50 with a $10 billion capital target to mobilize private finance for African infrastructure projects.
Activity after Public life
In 2014, Donald Kaberuka received the Forbes Africa Lifetime Achievement Award.
In December 2015, Donald Kaberuka was appointed Senior Advisor to a consortium, "TPG/Satya", jointly owned by two private equity firms: the US-based TPG and the London-based Satya Capital, affiliated with Sudanese billionaire Mo Ibrahim.
In 2015, Donald Kaberuka was Hauser Leader-in-Residence at the Kennedy School Center for Public Leadership at Harvard University and in early 2016 he was appointed the African Union's special envoy for financing to assist in mobilizing the AU's resources, including its Peace Fund activities. He sits on several international panels, including the Business and Sustainable Development Commission and the Center for Global Development's panel on the future of multilateral development banking.
Donald Kaberuka is also a senior advisor to the Public Sector, Social Impact and Financial Institutions practices at The Boston Consulting Group and joint chair of the LSE-Oxford Commission on State Fragility, Growth and Development under the auspices of the International Growth Centre alongside former UK Prime Minister David Cameron.
In 2019 Donald Kaberuka was appointed to Chair of the Board of the Global Fund to Fight AIDS, Tuberculosis and Malaria.
Donald Kaberuka became a Member of the Global Leadership Foundation in 2017.
Memberships & Affiliations
Chair of the Board of the Global Fund to Fight AIDS, Tuberculosis and Malaria.
Chairman of Global Advisory Council, African Leadership University
Chairman and Co-Founder of SouthBridge
Co-Chair of United Nations High-Level Panel on Internal Displacement
Special Envoy of the African Union
High Representative for the African Union on Financing the Union and the Peace Fund
Trustee of the Rockefeller Foundation