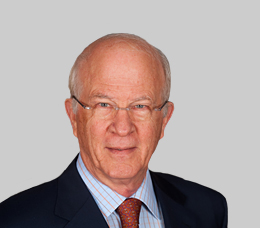 Chester A. Crocker
US Assistant Secretary for African Affairs 1981-1989
"GLF has established itself as a unique resource for leaders that are facing serious challenges and have the sagacity to recognise their need for external input from senior, experienced people".
Chester A. Crocker
GLF Member
US Assistant Secretary for African Affairs 1981-1989
Public Career
As the U.S. Assistant Secretary of State for African Affairs between 1981 and 1989, Chester Crocker developed the strategy and led the diplomacy that produced the treaties signed by Angola, Cuba, and South Africa in New York in December 1988. These agreements resulted in Namibia's independence (March 1990) and the withdrawal of foreign forces from Namibia and Angola.
Chester Crocker's previous professional experience includes service as news editor of Africa Report magazine (1968-69) and staff officer at the National Security Council (1970-72) where he worked on Middle East, Indian Ocean, and African issues.
Born in New York City in 1941, Chester Crocker received his B.A. degree from Ohio State University (1963), graduating Phi Beta Kappa, with distinction in history. He received his M.A. and Ph.D. degrees from Johns Hopkins University's School of Advanced International Studies.
Activity after Public Politics
Between 1992 and 2004, Chester Crocker was Chairman of the United States Institute of Peace, an independent, nonpartisan institution created and funded by Congress to strengthen knowledge and practice in international conflict. (He continued to serve as a Member of its Board until 2012).
Chester Crocker also serves on the Board of G3 Ltd., a business intelligence advisory firm. He consults as advisor on strategy and negotiation to a number of U.S. and European firms and is a distinguished fellow at the Centre for International Governance Innovation (CIGI), an independent, non-partisan think tank that partners with the three universities in Waterloo, Ontario.
Having first joined Georgetown University as Director of its Master of Science in Foreign Service program and Associate Professor of International Relations (1972-80), and serving as Director of African studies at the Center for Strategic and International Studies (1976-80), Chester is the James R. Schlesinger professor of strategic studies at Georgetown's School of Foreign Service where he lectures and writes on international politics, U.S. foreign policy, conflict management and security issues, the practice of mediation, and African affairs.
He has appeared on numerous television shows, as a dinner or keynote speaker at conferences in the U.S., Europe and Africa, and as a witness in Congressional hearings.
Chester Crocker has written and co-edited a number of books, including:
High Noon in Southern Africa: Making Peace in a Rough Neighborhood (1993)
Managing Global Chaos: Sources of and Responses to International Conflict (1996)
Herding Cats: Multiparty Mediation in a Complex World (1999)
Turbulent Peace: The Challenges of Managing International Conflict (2001)
Taming Intractable Conflicts: Mediation in the Hardest Cases (2004)
Grasping the Nettle: Analyzing Cases of Intractable Conflict (2004)
Leashing the Dogs of War: Conflict Management in a Divided World (2007)
Rewiring Regional Security: Managing Conflict in a Fragmented World (2011)
Conflict Management in a World Adrift (2014)
Minding the Gap: African Conflict Management in a Time of Change (2016)
The Fabric of Peace in Africa: Looking beyond the State (2017)
Chester Crocker is a founding Member of the Global Leadership. He has served as a member of the GLF Board since 2004, when the Foundation was incorporated and has led two GLF teams in Africa. Chester Crocker was Vice Chair of the GLF Board from April 2019 until April 2020.
Memberships and Associations
Advisory Board Member, Institute for the Study of Diplomacy, Georgetown University

International Advisory Board member of 

International Affairs (

Chatham House)

Member of the Council on Foreign Relations
Member of the International Institute of Strategic Studies
Member of the American Academy of Diplomacy