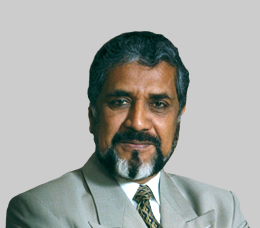 Cassam Uteem
President, Mauritius 1992-2002
"In the peer to peer, one to one relationship, Members of GLF, especially former Heads of State and of Government, share their experiences of success and failure with the current leadership of a country showing, for example, how they often succeeded in turning failures into opportunities. The current leaders can thus avoid certain mistakes when faced with similar situations. This is why, when required, my own advice is not so much what should be done as what shouldn't."
Cassam Uteem
GLF Member
President, Mauritius 1992-2002
Cassam Uteem served as President of Mauritius from 1992 to 2002 and is his country's longest serving president at nine years.
Public Career
Cassam Uteem has a long history of involvement in politics, both at the community and national level. Having been involved in local community work as a youth leader, Mr Uteem joined the leftist political party the Militant Movement of Mauritius (MMM) where he rose to become its deputy-leader. In 1969 he was elected to serve as Councillor of the City of Port Louis and remained in this position for several years before becoming the city's Lord Mayor in 1986.
Cassam Uteem served as a Member of the Mauritian Parliament for 16 years before he was elected President of the Republic of Mauritius in 1992. During his time as Opposition Member of Parliament he occupied the post of Opposition Whip (1983-87) and Chairman of the Public Accounts Committee (1988-90) and, when his party was in government, served as Minister of Employment, Social Security and National Solidarity (1982-83) and Deputy Prime Minister & Minister of Industry & Industrial Technology (1990-92).
Having been elected President of the Republic of Mauritius in 1992, Mr Uteem was re-elected in 1997 for a second five year term. He resigned from this post in February 2002.
Activity after Public Politics
Cassam Uteem is very active in the field of international public policy and is frequently invited to speak at conferences and symposiums.
Mr Uteem is the recipient of numerous awards and distinctions, including the Grand Commander of the Order of the Star and Key of the Indian Ocean (GCSK), the highest distinction of his country, and has received honorary doctorates from the University of Mauritius, Université Aix-Marseille III, France, Academie Nationale Malgache, Madagascar, University of Buckingham, UK and the University of Jamia Millia Islamia, New Delhi, India.
Cassam Uteem has led a number of election observations missions, representing a number of organisations. On behalf of the Electoral Institute for Sustainable Democracy in Africa (EISA) Mr Uteem has led delegations of election observers to Madagascar in 2013, to Egypt in 2014 and to Zambia in 2015, and on behalf of the African Union he has led observation missions to Tunisia in 2014 and to Gabon in 2016. 
In November 2014, Mr. Uteem was appointed by United Nations Secretary-General Ban Ki-moon to be his Special Envoy and Head of the United Nations Electoral Observation Mission in Burundi (MENUB).
Cassam Uteem became a Member of the Global Leadership Foundation in 2004 and served on the GLF Board from 2009- 2021.  He has led four GLF Project visits to two countries in Asia.
Memberships and Associations
President of ATD Fourth World
Commissioner for Global Commission on Drug Policy
Member of Africa Forum