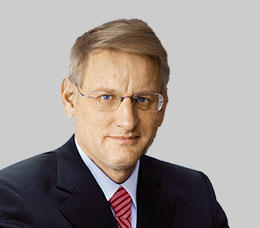 Carl Bildt
Prime Minister, Sweden 1991-1994
Foreign Minister 2006-2014
Prime Minister, Sweden 1991-1994
Foreign Minister 2006-2014
UN Special Envoy to the Balkans 1999-2001
Public Career
Carl Bildt became a Member of Parliament in 1979. He was elected leader of the Moderate Party in 1986 which, through a four-party coalition, went on to defeat the Social Democrats in 1991. 
As Sweden's first conservative prime minister in 61 years, Carl Bildt led a government focused on liberalizing and reforming the economy and making Sweden a member of the European Union.
Carl Bildt signed the accession treaty at the European Union summit of Corfu on 23 June 1994 and economic reforms were enacted, including the introduction of voucher schools, the liberalization of markets for telecommunications and energy sectors and the privatisation of health care and publicly-owned companies. This reform period in the early and mid-1990's is generally seen as having pave the way for the successful growth decades that followed.
However in the 1994 elections the Moderate Party made only a slight gain with the Social Democrats gaining slightly more ground.  Carl Bildt was therefore unseated after only one term and he served as leader of the opposition until 1999, when he was succeeded as party leader by Bo Lundgren.
Returning to government in 2006-14, he became one of the most prominent and vocal of European foreign ministers during those years.  He was one of the initiators of EU's Eastern Partnership, and pushed for a new European Global Strategy.
Activity after Public life
After stepping down as leader of the Moderate Party of Sweden in 1999 and leaving Parliament in 2000, Carl Bildt represented the EU and UN in the Balkans, co-chairing the Dayton Peace Talks on Bosnia and becoming the first High Representative in the country. Later, he was the Special Envoy of UN Secretary General Kofi Annan to the region.
Mr. Bildt has also worked on corporate boards in Sweden and the US as well as different international think-tanks such as the International Crisis Group.
Carl Bildt was an early advocate of the new ICT technologies. An email exchange in 1994 between him and President Clinton was the first between heads of state/governments and he has continued to push for the use of social media in international diplomacy.
Carl Bildt became a Member of the Global Leadership Foundation in 2016.
Memberships & Affiliations
Co-chair of the European Council of Foreign Relations
Trustee of the International Crisis Group
Trustee of the RAND Corporation USA
Senior Advisor to the Wallenberg Foundation, Sweden
WHO Special Envoy for ACT-Accelerator