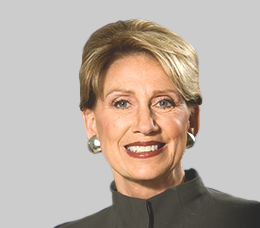 Barbara Barrett
US Secretary of the Air Force 2019-2021
US Ambassador to Finland 2008-2009
US Secretary of the Air Force, 2019-2021
US Ambassador to Finland 2008-2009
Public Career
As the 25th Secretary of the U.S. Air Force, Ambassador Barrett was the civilian leader of the Air Force and the inaugural head of the Space Force. Earlier, she was Deputy Administrator of the Federal Aviation Administration, Vice Chairman of the U.S. Civil Aeronautics Board, and U.S. Ambassador to Finland. Among other roles, she was a Senior Advisor to the U.S. Mission to the United Nations and worked to open economic opportunities for women in Afghanistan and many other countries.
Business Career
In business, Barbara Barrett was an executive of two global Fortune 500 companies and CEO of the American Management Association. She was four-term Chairman of the Board of The Aerospace Corporation and served on the governing boards of RAND, Exponent Corporation, Raytheon, Mayo Clinic, the Smithsonian, and the Space Foundation. In academia, she taught leadership as a Fellow at Harvard's Kennedy School and was interim president of Thunderbird School of Global Management.
Barbara, with her husband Craig, owns Triple Creek Guest Ranch a ranch resort in Montana and serves on the governing board of Caltech, Jet Propulsion Laboratory (JPL). In addition to her membership in the Global Leadership Foundation, she serves on the board of The Atlantic Council.
Barbara was global President of the International Women's Forum. She founded Project Artemis — a Thunderbird program to train and mentor Afghan women entrepreneurs, which has now been emulated in dozens of countries.
 An instrument-rated pilot, in 2009 she trained in Star City (Russia), culminating in certification for space travel to the International Space Station.
She joined GLF as a Member in 2021 and as a Member of the Board in 2022.