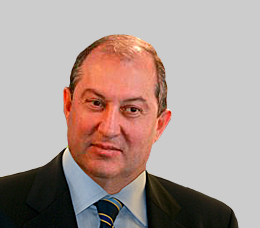 Armen Sarkissian
Prime Minister, Armenia 1996-97
Prime Minister, Armenia 1996-97
Biographical Information
Dr Sarkissian was Prime Minister of Armenia from 1996 – 97.    Before that he was the Armenian Ambassador to the UK, Senior Ambassador of the Republic of Armenia to Europe (Deputy Foreign Minister) and concurrently represented Armenia as Ambassador to the European Union, Belgium, the Netherlands, Luxembourg, and The Vatican.   Following his term as Prime Minister of Armenia from 1996 to 1997, he was reappointed Ambassador to the United Kingdom in 1998.
From 1976 to 1984 , before his term in public office, Dr. Sarkissian was  Professor of Physics at Yerevan State University and subsequently Head of the Department of Computer Modelling of Complex Systems at the University's Department of Theoretical Physics. In 1984 he became a Visiting Research Fellow and later professor at the University of Cambridge.
Activity after public politics
Dr. Sarkissian has served as Special Advisor to the President of the European Bank for Reconstruction and Development, and as a Governor of the EBRD from 1999-2000.
In 2000 Dr. Sarkissian established the Eurasia Research Programme at the Judge Business School, University of Cambridge. Under his directorship, the Programme has implemented a series of very successful projects in both England and the Eurasia region. He is founding President of Eurasia House International in London, which fosters critical dialogue and cooperation among political and business leaders and is involved in bridge building between the West and the vast geographic space extending from Eastern Europe to Russia, the CIS and to China.
Dr. Sarkissian has been Senior Executive Advisor to the Board of Directors and Chairmen of a host of global companies, including BP, Alcatel, Telefonica, Finmeccanica and Bank of America Merrill Lynch.
His business activities in the computer software industry include authorship of game software. He is one of the original authors of TETRIS, one of the world's most popular computer games. He has authored numerous academic articles and three books on theoretical physics, astrophysics, computer modelling, political science and transition economics. He is a frequent speaker at high-level international conferences, seminars, and gatherings on issues such as leadership, political economy, energy security, geopolitics and developments in Eurasia.
Dr. Sarkissian holds executive and honorary positions in numerous international organisations. In 1997 he was awarded the "St. Gregory the Great Medal" by His Holiness Pope John Paul II at The Vatican and, in 2008, "The St Gregory the Illuminator Medal" by His Holiness Catholicos Garegin II of All Armenians in Holy Etchmiadzin. 
Armen Sarkissian joined GLF in 2006 but stepped down from active Membership when he took up the post of Armenian Ambassador in London.
Memberships and Associations
President of Eurasia House International
Chairman of the Global Council on Energy Security, World Economic Forum
Vice Chairman of East West Institute
Board Member of International Economic Alliance
Advisory Board Member of the EU-Ukraine Business Council
Advisory Board Member of the Kennedy School of Government, Harvard University
Advisory Board Member of Harris School of Public Policy, Chicago University
Member of the Euro-Atlantic Security Initiative (EASI) Commission
Honourable Professor of Armenian Academy of Science
Honorary Senior Research Fellow at the School of Mathematical Sciences, Queen Mary & Westfield College