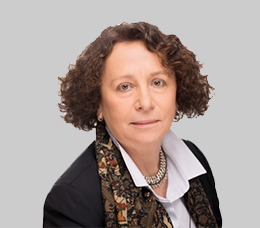 Ana Palacio
Foreign Minister, Spain 2002-04
Foreign Minister, Spain 2002-04
Public Career
Ms. Palacio was the first woman to serve as Foreign Minister of Spain, from 2002-2004.
Previously she served as a member of the European Parliament, from 1994 and 2002, where she chaired the Legal Affairs and Internal Market Committee, the Justice and Home Affairs Committee and the Conference of the Committee Chairs, the most senior decision-making body on legislative policy and programs.
As the Head of the Spanish Delegation to the European Union's Intergovernmental Conference and a member of the Presidium of the Convention, Ms. Palacio was at the forefront of the debate on the future of the European Union and drafted and led legal discussions on the European Treaties reform.
After serving as Foreign Minister she served as a member of the Spanish Parliament, from 2004 to 2006, where she chaired the Joint Committee of the two Houses for European Affairs.
Previously, she served as Senior Vice President for International Affairs of AREVA, the international nuclear and renewable energy company; Senior Vice President and General Counsel of the World Bank Group and Secretary General of the International Center for the Settlement of Investment Disputes (ICSID).
Ms. Palacio graduated with honors from the Lycée Français (Baccalauréat Mathèmatiques). She holds degrees in Law, Political Science and Sociology, also with honors.
Activity after Public Politics
Ms. Palacio served on the Spanish Council of State from 2012 to 2018 and was a member of the Panel of Arbitrators of the International Centre for Settlement of Investment Disputes (ICSID).
Today Ms. Palacio is the Founding Partner of Palacio y Asociados, a Madrid-based consulting and law firm,and is a Senior Strategic Counsel to Albright Stonebridge Group where she advises clients on business in Brussels and throughout the European Union.  She is also an Arbiter at the Arbitration of Madrid's Chamber of Commerce and a Board member for a number of companies. She also serves on the Governing Council of the Instituto de Empresa.
Ana Palacio became a Member of the Global Leadership Foundation in 2018 and has been involved in a project in Central America.
Memberships and Associations
Founding Partner of Palacio y Asociados
Board Member of Pharmamar
Board Member of Enagás
Board Member of AEE Power
Policy Board Member of Institute for Strategic Dialogue
Advisory Board Member of Investcorp
Advisory Board Member of Office Chérifien des Phosphates
Advisory Board Member of the Sandra Day O'Connor Justice Prize
Advisory Board Member of United Against Nuclear Iran
Senior Strategic Counsel to Albright Stonebridge Group
Arbiter at the Arbitration of Madrid's Chamber of Commerce
Member of the World Economic Forum's Global Agenda Council on the Future of the European Union
Member of the World Economic Forum's Global Agenda Council on the United States
Member of the Board of the Atlantic Council of the U.S.
Member of the Supervisory Board of Hague Institute for Internationalization of Law.
Trustee of the Institute for Human Sciences
Visiting lecturer at Georgetown University